Holiday Party!
It's here! December 14
Williamson County Public Library 
1314 Columbia Ave, Franklin
Main Meeting Room
Friday, December 14


11:00 – 1:30

Holiday Party, Artist Trading Cards & Pot Luck Lunch!
Pot Luck Lunch – bring your favorite dish.
Artist Trading Cards will be exchanged after lunch.
Bring enough ATC's to exchange…its a  bring one get one in exchange.
The more you bring, the more you may get in return.
Don't worry. Supplies will be provided to make your own if you don't have any to trade!
Some of us have collected several beautiful miniature pieces of art. It's never too late to start your collection!
This is a free annual get-together with fellow artists and art lovers!
This presentation is open to the public – no membership required. Feel free to bring your lunch.
---
Welcome New and Renewing Members
Our Members are the Best!
Marianne Edmonson and Marilyn Walen
---
November – December
Featured Artist: Janet R. Petrell – Zipperworks
Williamson County Public Library
1314 Columbia Ave, Franklin
Main Room (new books section)
Janet R Petrell
, born and raised in rural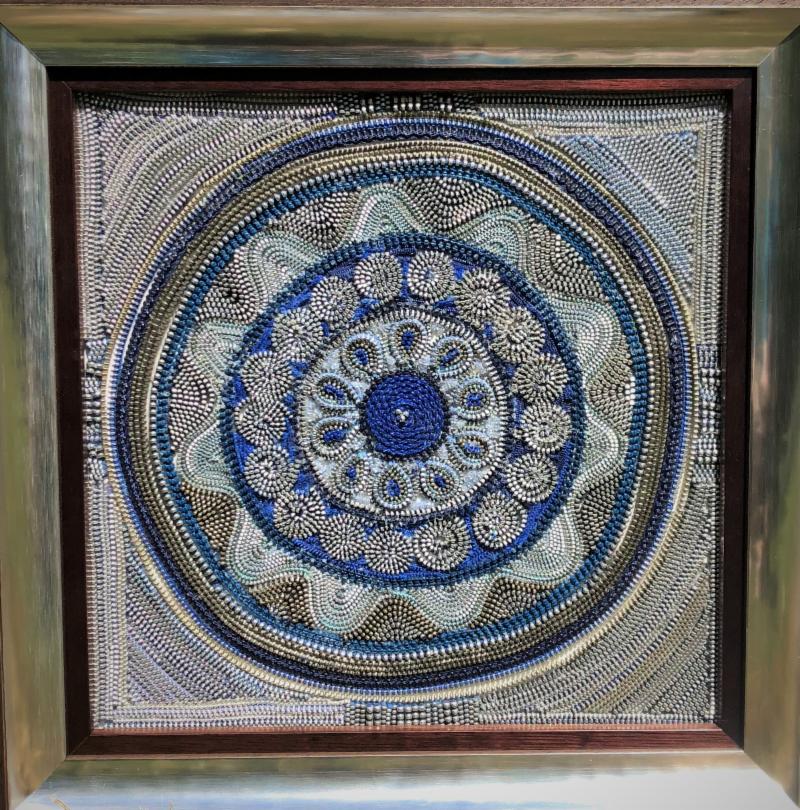 Norther Minnesota and currently live and create in Kingston Springs, TN. I am a self-taught artisan who created her own medium of using zipper teeth to create art since 1979. The pieces are free form designed based upon zipper teeth inventory.  Zippers are found and not purchased.  One source of my zipp
ers comes from a home for developmentally disabled adults who shred clothing into rags.  They save the zippers for me to use.  I have created art for their home to give thanks for providing me with my "paint".  I often give back to the community donating my art pieces to many causes around Tennessee and the United States.
I have two large commission pieces at the East Tennessee Children's Hospital in Knoxville, TN.  My art piece entitled Koi Pond  recently won first place in multimedia category at the Art in the Park event in Kingston Springs, TN.  I have exhibited
my work at juried fine art fairs, galleries, museum exhibits and public art spaces in the US, Canada, Japan, and Europe.
---
Thank You for the Grant!
We would like to thank the Westhaven Foundation for supporting the Artist in Residence Program.
---
General Announcements
You Can Make a Difference!
---
Membership Update 2018
The Arts Council of Williamson County greatly appreciates each and every member of our organization. Your membership supports artists and arts education through our programming such as the Artist in Residence Program, Micro Grants, Artists' Studio Tour, Brown Bag Lunch Bunch, Grid Row, and Critter Invasion. We are reworking our membership to reflect our evolving needs and demands on volunteers.
As of March 2018, the Arts Council has moved to an annual membership rather than a rolling membership in which all membership renewals are due in March.  If you wish to join today, we have temporarily discounted our membership until that date. 
If you have any questions about this change in membership or would like make a greater impact on the arts in Williamson County through volunteerism, please email info@artsouncilwc.com.
---
Kroger Rewards Renewal Time!

The Arts Council Appreciates your support over the years.
This may not sound like a lot to you, but to us, it means a LOT. In 2017, you raised $283.00for us just by designating ACWC as your charity of choice when using your Kroger card.Let's see if we can double it in 2018!
 However, Kroger does not automatically re-enroll everyone.
Each person that had previously signed up for Kroger Rewards, must re-enroll every year.

For your convenience just click here and you will be automatically re-directed to Kroger's re-enrollment page.
Thank you for shopping Kroger and making the arts stronger in your community.
---
Attention Amazon Shoppers
Do You Shop on Amazon?
You can support the Arts Council each time you shop!
Every time you shop on Amazon, just sign-in to
Don't worry.
You do not need to set-up a new account. Smile.amazon.com, will automatically know who you are.
All your settings and history will be there. From then on, always just sign-in to
smile.amazon.com
.