2019 Artist Studio Tour presented by Gallery 202 
The 2019 tour is November 9-10, from 12-6pm both days.
The Arts Council presents local artists as they open their studios to the public, offering a unique and wide selection of artwork and demonstrations. This is a special opportunity you won't want to miss!
Tickets: $15 in advance, $20 on the day, $10 for students with ID, free to children 12 and under. The event supports our Artists in Residency in collaboration with Williamson County Schools.
Buy Tickets Now - 2019 Studio Tour
2019 Artists Studio Tour Line Up
Jeni Housley, jewelry and clothing designer, and artist developed her love of color, designing and sewing as a teenager. While at the University of Georgia, Jeni studied geology and minerals which has given her a depth of knowledge for the fine natural stones she incorporates into each of her one-of-a-kind jewelry pieces. Through her extensive travels out West, Jeni's love for horses, Native American arts and natural beauty have continued to inspire her and her creations. A Miami native, Jeni and her husband, Gary, made their Tennessee farm their home; raising two boys and an assortment of mules, mini-donkeys, llamas, sheep, dogs and cats.
Jeni's beautiful jewelry and accessories can be found in fine stores and galleries throughout the U.S. Her recent travels have taken her as an exhibitor of her works to Las Vegas, Scottsdale, AZ, Palm Springs, CA, Louisville, KY, Florida (Wellington, Ocean Reef, Vero Beach, Jacksonville, Havana and Ocala), Fort Worth and Fredricksburg, TX, Pagosa, CO, Sister Bay, WI, Big Sky and Ennis, MT, and Blowing Rock, NC. Locally, Jeni's work can be seen at the Omni Hotel in Nashville and at Leiper's Fork and Franklin, TN.
Larry Montgomery was born and raised in Shreveport, Louisiana. After graduation from High School, Larry was approached by Penthouse Magazine to do a cartoon series for them. He declined the job but instead chose to attend Louisiana Tech University studying architecture design.
After moving to Franklin, TN, Larry would travel often to Leipers Fork to browse antique shops. Upon meeting local merchants, the Montgomery family decided that Leipers Fork was where they wanted to live. Since moving to Leipers Fork, Larry has been known as the 'Sheriff' of the community, volunteers 'in character' for various events and is one of the founding members of Jailhouse Industries.
Larry is a full-time watercolor artist and does commission work for local individuals. Larry is also the artist of the Leipers Fork building murals, which are now reproduced as postcards and selling in the village. Larry, the actor, has performed in several feature films shot in various southern locations.
Anne Goetze resides on a small farm in the countryside outside of Leipers Fork, Tennessee. Her cherished subject matter features the rural life and landscape of middle Tennessee, as well as a certain beloved town in the French Alps that she frequently visits.
She has garnered an understanding by documentation, absorption and reflection.. that whether
 it be by our roots, transplanting or just traveling through… we all share in a connection to God's Creation, and in the same shared relationship of our souls needing a 'sense of place'.
Goetze's work is found in the permanent collections of The Tennessee State Museum and Vanderbilt Children's Hospital, as well as the personal collections of Oprah Winfrey, Tony Joe White, U S Senator Fred Thompson, Tim McGraw, Michael McDonald, Naomi Judd, John Hiatt, Nashville Mayor Karl Dean and Billy Ray Cyrus, among others.
Anne Goetze is a member of the Oil Painters of America, American Impressionist Society, Metro Nashville Arts Commission, and The Chestnut Group, a non-profit plein air painters group dedicated to land conservancy.
Growing up in a creative atmosphere with his parents in the music and art business, Nathan Collie was also influenced early on by spending
much of his childhood years outdoors. The country life centered around hunting and fishing, often accompanying by his mother while painting the local surroundings and landscape. As he studied the behavior of the natural world, it became a personal sanctuary for him,and he began to turn his attention to the camera to document those observations.

His work reflects the beauty of Middle Tennessee, the American West and a small village in Annecy, France. Thru his films and visual subject matter, Nathan hopes to share the universal relationship that threads the human spirit to the surrounding natural world.
Vic started carving in 1991 and began focusing on full-size human busts, for which he has since won over 100 awards. To develop his skills, he has studied woodcarving with Larry Rogers and John Burke and has attended wood-sculpting workshops in Europe. Vic teaches at workshops around the country and at his studio in Liepers Fork, TN. He has written several articles and two books and has appeared on the DIY Network. In 2011, he was selected as the "Woodcarving Illustrated" Carver of the Year and won 2nd Best of Show at the International Woodcarvers Congress.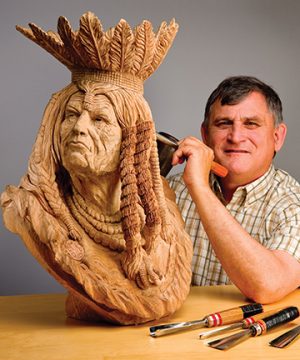 Tennessee watercolorist Butler Steltemeier specializes in animal portraiture with a twist. Dreamy settings and startling details of fashion accessories lend whimsy to her otherwise dead-on realism used to present goat, cow, dog and sheep models in natural pose. In paintings that may vary from eight-inch head studies to dramatic large whole body portraits, the artist captures her four-legged models with a delightful use of rich colors and intense gradations.
Self-taught since childhood, Steltemeier began to win awards immediately after her first formal study at Spring Hill college under the tutelage of Father Craigan. She has among her many recognitions been awarded by the American Watercolor Society, the National Watercolor Society and is listed in the Who's Who of Alabama Women Painters.
The artist is included in a long list of collections including the Tennessee State Museum, South Central Bell and American Airlines Headquarters. Private collectors include Whoopi Goldberg, Billy Joel, Steve and Eugenia Winwood, and Al and Tipper Gore.
A native of Nashville, Steltemeier lived in Magnolia Springs, Alabama for fifteen years with a year away in Manhattan that included study at the New York Art League. She spent a significant portion of her early career living the life of an art festival nomad, exhibiting and selling across the country.
Steltemeier now resides in Leiper's Fork, Tennessee with her canine companion Howdy Doody and several very individual felines. In addition to her artwork, the artist is busy writing her first children's book.
I chose to start a full-time art career in 2011. I am self taught and paint in oils and acrylic. I draw inspiration from my heritage(born in Cape Town South Africa) spending many holidays with my grandparents surrounded by the untamed beauty of Africa. While growing up and seeing the life disadvantage children live i have always wanted to draw attention through my work to the plight of children globally. Young kids with beautiful dreams and imagination but little hope.
In my most recent collection i have painted a series of florals. It is my hope the viewer will have their senses stimulated by the beauty of these deconstructed arrangements with their vivid and pastel hues. Since we spend so much time in our homes, it is my hope to capture some of the days of my youth where i would spend endless hours in the wild African beauty and bring it into our everyday living spaces.
I paint out of my gallery in downtown franklin. I have a perfect little corner in our front store boutique that people coming in can watch if they desire to do so.
I also teach the basics of painting at our Alla Prima paint nights. It is a high end paint party where people leave with a beautiful piece of art for their homes.
Pamela Padgett is an artist who works with a painterly approach to traditional themes including landscape, still life and figures. Her oil paintings are represented in collections across the country.

Pam was born in Charleston, West Virginia and eventually located to Tennessee where has lived since 1980. She worked at a design firm as the art director until taking her design work freelance. She later turned to fine arts when she began studying with portrait artist Michael Shane Neal. She resides in Williamson County, a strong artistic community of both painters and songsmiths. Pam is married to John R. Padgett and they have two children.

Education- Art Institute of Pittsburg, Pittsburg, Pa. with a degree in visual arts.

Extended Education- Studied with numerous nationally recognized artists including: Michael Shane Neal, Ken Auster, Charles Sovek, Peggy Kroll Roberts, Matt Smith, Scott Christensen, Caroyln Anderson, Don Stone and others.

Philosophy: "I believe painting from life is key to understanding the subtle changes of values in light and shadow. In my painting process and interpreting my environment, I constantly challenge myself and seek inspiration to develop the true character of my subject. I value the great painters of the past…Sargent, Sorollia, Beaux, Zorn…and understand the struggles they shared."

Padgett currently conducts painting classes at On Tracks Studios to a select group of artists in middle Tennessee.
I was raised on a small farm in Hickman County listening to the roosters crowing, watching my Mom milk the cows, and my Dad plowing with a mule or horse. Growing up with the sights, smells and sounds of a working farm, I am happiest experiencing God in his creation.
No fancy tractor on our farm, my Dad and brothers were the tractors. I was a Daddy's girl so I loved hanging with him while he was feeding the pigs or just working around the barn. I am inspired smelling the fresh earth as it is plowed, breathing fresh air as I view the ever changing colors of the land, skies and water.

I sold my company 6 years ago and after taking a couple of years to do things I have not had time to do, I started painting a little. I became very serious about my work about four years ago and poured my heart into learning all I could about painting..

My husband and I live in Leiper's Fork, Tn. a beautiful rural community which is a haven for a landscape artist. I love painting old barns, houses and country churches in their landscapes because they have such a story to tell of the people living and working there. I want to capture those stories on my canvas, while allowing your imagination to create your own story as you live with my art. I am sure this is why some would call me a nostalgic artist.

Many artists, friends, family members and especially my husband, Troy have inspired and encouraged me to push forward with my dream of oil painting. I have studied under many of the top artists from all over the country striving to do my very best. Whenever possible I will sit in the wonderment of the scene to be painted and study it in great depth and during this time I like to visualize the stories behind the landscape and the people who live there. I cannot paint just anything, I examine the scenes or pictures until one speaks to me, then and only then, I will know it will be a nice painting and tell a good story. If my art helps people relate to a story, you can rest assured my heart is happy.

I have recently participated in several art shows which were quiet successful. One of the showings was a Chestnut Group show for The Parthenon. This was the first year to ever do this for the park and we are very proud of this show and will hopefully continue a strong relationship with the park throughout the years. The month of June I displayed approximately 50 paintings in The Gallery on the Square in Centerville and will be in the August 2019 Art Crawl at Landmark Bookseller.
I am an artist living in the quaint village of Leiper's Fork, TN. After raising six children and victory over Stage IV cancer, I now fervently spend my time pursuing my love of art. As part of my holistic healing process, I began to write out declarations of wholeness and paint what I felt on the inside. Out of this was birthed my Ladies Collection…women with a story, strong women, women of different countries, women of different backgrounds. I want to create a culture of women nurturing other women. #womanKindculture. Although i have had no formal training, I am extremely passionate about art and creating a safe place for women to create all forms of art at their own pace. It has been my privilege to teach women this concept of art at several Rest Quests at the Billy Graham Training Center at the Cove.
I have been published in the Orange Blossom Review , an international, peer-reviewed literary journal with quality fiction, poetry, nonfiction, and artwork. I am published in the online literary journal Bonnie's Crew.  My art appeared in the issue of February 2019 and my poetry in the issue of April 2019. In addition four works of art are being published in the upcoming September issue of Rebus magazine. I travel extensively and have had the honour of painting plein air in many countries across the globe, some of my favourites are Canada, France, England, and Italy.
I love using acrylic inks in a nontraditional form, and I love to work in watercolours, oils, and acrylics. I also write poetry.My studio is in my Victorian farmhouse in Leiper's Fork, where we raise our own food, sheep, and chickens. My art is currently being sold on my website and at private viewings.
I took 12 years of drawing classes from Melanie Jackson (Leipers Fork) and then began having classes here at my studio (a converted barn) in 2011. I have been in quite a few art shows and sold paintings by private commission and through shows. I work with other artists at my studio weekly and am President of the Prism Art League. I send out a weekly newsletter promoting the arts in Williamson County and highlighting artists from our group, keeping them informed of opportunities, links to product specials, classes, etc. Although I love graphite and colored pencil drawing, I also paint with acrylic, watercolor and multi media. My goal in holding classes for other artists is to bring to the surface gifts that have lain dormant or as yet undiscovered and impart confidence and encouragement to others that they have more inside them than they think they do.

I am also a speaker and writer and the author of Creating a Haven of Peace, Be Your Finest Art, Be Your Finest Art Creative Journal, What if it Were Possible?, and four children's books in the I Wanna' Be series.
I have been a professional painter for the past 20 years. I work mainly in oil. My subject matter is mostly landscape, but also includes other subjects. I try to focus on Williamson County subjects, but also paint from my travels both abroad and in the states. I currently sell my work at Leiper's Creek Gallery and Richland Fine Art. I have taught art classes and workshops for the past 15 years. I currently teach workshops at On Track Studios.
My Studio at ON TRACK is a wonderful set up for any artist. I have painting space and a large north light window. I share a storage and work space with the other 5 painters at the studio building. I feel really blessed to be able to work in such a wonderful space and environment
I started this journey with art as a young child painting, drawing, sewing, and making crafts. I was a nurse for 17 years, and it was about 15 years ago that I revisited art by taking an oil painting class and then a pastel class and I fell in love with pastels. I am now painting in mostly oils, and continue to learn something new every time I pick up a brush!
Through art, I have met so many talented artists all over the country and here in the middle Tennessee area. I have now started my own business. I have built a working studio that has six art studios within, a common work area, and a workshop area where a variety of workshops, open studio, and classes are held. "On Track Studios" is located on about 2 acres, and there is plenty of room to paint "en plein air". I'm learning every day about other aspects of art and I'm looking forward to meeting fellow artists and teachers during the workshops at OnTrack. www.on-track-studios.com.
Dawn Whitelaw is one of the artists in residence at On Track Studios in Franklin,
Tennessee. Most of her formal instruction has come from study with New York painter, Everett Raymond Kinstler. Ms. Whitelaw is currently on the board of the Portrait Society of America, where she holds the office of Vice Chairman. In recent years, The Plein Air Convention and Expo featured her as an instructor in their conventions in Nevada, California and Colorado in 2020. She has also been on the faculty for Plein Air South. For over 25 years she taught painting as an adjunct instructor at David Lipscomb University. She continues to teach throughout the country by conducting workshops in oil painting principles. Whitelaw sells work through Galleries and through Portraits Inc.
Kristin Clark (AIS), grew up in Lake Bluff, Illinois and received her BFA in Acting from Carnegie Mellon University in Pittsburgh, PA. While living and working as an actress in New York City, she also began seeking education in the visual arts at the renowned Art Student's League. Gradually her focus shifted from acting to painting. She and her husband moved to Nashville, TN in 2005. There she met Jody and Pat Thompson and Dawn Whitelaw and her art education truly began. She took classes and workshops in portraiture, still life and the figure. "I thought the ship had sailed for getting a true art education-that that would not be in the cards for me-but when I expressed a passion for this medium and a desire to learn from the masters, they appeared".
She has studied with Peggi Kroll Roberts, Paula Frizbe, Pam Padgett, Anne Blair Brown and Kim English. "All these artists have been so giving and influential." Kristin credits Jody, Pat, Anne and Dawn most with her growth as an artist. "They have been true mentors and a constant resource of knowledge and inspiration. It is because of their generosity that I am able to share with others my views and my gratitude through the language of art. It is the recognition of the Divine in all things that moves me to paint. It is my intent to heal and uplift in this way."